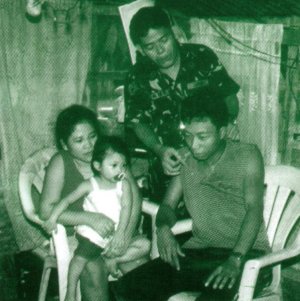 But his healing did not stop there; his gift has been proven useful even during combat operations. At one instance, Pablo was given a premonition of impending danger. It was not long when the officers took notice of this unique gift. Soon after, Pablo was tasked to join the Civic Actions launched by 81D. The soldier-healer is not only famous among his comrades; civilians also call upon his services as well. It was not long when his name became a byword in Region 8. According to him, there are two kinds of sickness: one is man-made and the other is the work of the devil. Man-made sickness is brought about by the person's abuse of himself: excessive drinking, excessive smoking and other vices.

On the other hand, the works of the devil are those being possessed by the devil himself or being caused by witchcraft. Pablo could heal both types of sickness. One of his most celebrated healings was that of exorcising a man possessed by an evil spirit. Another event was when he was invited in Cebu to heal a beauty queen, who, after winning a contest, was possessed by an evil spirit. In almost all instances that he was able to heal, SSg Saniel was offered land, houses, cars or money: Pablo refused all of them. Part of his commitment to heal is the resolve not to ask payment for his services.

When asked: to what end are you making all these sacrifices if you do not accept payment? Pablo said: I'm doing this for a greater payment which can be claimed after this life.
A soldier is often times branded as a jack-of-all-trades: referring to his various skills. But none is as rare at, the faith healer of the 8th Civil Affairs Unit (8CAU), SSg Pablo S Saniel who has been in the service for 18 years. Throughout his career, Pablo uses his gift of healing to serve the people of Eastern Visayas in the name of God.
Pablo is a native of Dumanhog, Cebu but moved his family to Makilala, North Cotabato. When he was nine years old, he dreamt of Jesus Christ who revealed to him a phrase that has the power to heal. Pablo memorized this phrase and used it every time he treats someone. Not even his parents believed that Pablo could have such a gift. But a series of successful healing made believers out of them. A series of dreams led him to embrace the life of a soldier. He answered that calling and in 1984 Pablo enlisted in the Regular Force and was assigned to 521B, 811D.