CAMP LUKBAN, CATBALOGAN, SAMAR - The 46th Infantry (Peacemakers) Battalion (46IB) led by its Commanding Officer, LTC Manuel Felino V Ramos, which was "borrowed" by the Central Command of the Armed Forces of the Philippines for deployment of troops to Bohol Province is welcomed back to Samar today in simple ceremonies at Pier 2 of Catbalogan, Samar attended by no less than the Commanding General of the 8th Infantry Division, Philippine Army, Maj Gen Jovito S Palparan Jr: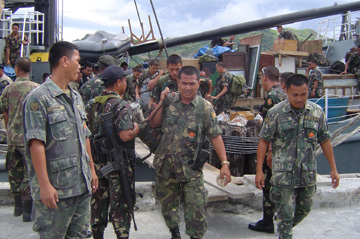 46IB troops disembarking from the Navy Ship that
transported them from Bohol to Catbalogan, Samar.
It can be recalled that the 46IB is organic with the 8th Infantry Division which was deployed at Basey, Samar but was requested by the higher Command which is the Central Command, AFP based in Camp Lapulapu, Cebu City for deployment to Bohol province. Since 46IB was the Rapid Deployment Force (RDF) at that time, the 8ID then under Maj Gen Glenn J Rabonza complied with the order last October 2004, in order to help clear Bohol Island of insurgents as it is one of the major tourist destinations of the country.
After eight (8) months of serving the Boholanos where 46IB gained the respect and admiration of the local leaders and populace thereat, the 46IB is once again back to its mother unit, the 8th Infantry Division where they are expected to reinforce the troops deployed here in Samar and hasten the clearing of the insurgency problem here in the region.
In his speech, General Palparan warmly welcomed back the 46IB to Samar and said that he is proud of the reputation left by the unit in Bohol where they have significantly helped solve the insurgency problem and establish Bohol as a major tourist destination. He further directed LTC Ramos to initially give his troops a brief respite to be with their respective families before being deployed in the area. He further stressed that he is still expecting additional troops from the Scout Rangers and Special Forces to beef up the 8ID troops deployed in the region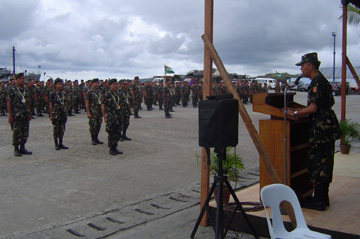 Maj Gen Jovito S Palparan Jr welcoming back the 46IB troops
in simple ceremonies at Pier 2, Catbalogan, Samar
The troops will be initially housed at Camp Lukban before they will be deployed in the province for the conduct of clearing operations to finally neutralize the Communist Terrorists in the region. The 801st Infantry Brigade under Brig Gen Roberto C Ver, based in Camp Daza, Brgy Fatima, Hinabangan, Samar, which has jurisdiction over the whole of Eastern Samar and southern portion of Samar province, will be the one in-charge of their deployment.