CAMP LUKBAN, CATBALOGAN, SAMAR - On 15 June 2005 at around 8:30 P.M., 8ID troops under the overall supervision of LTC Edito Nisnisan, Commanding Officer of 34IB, while on combat operations against a reported enemy camp, encountered more or less thirty (30) Communist Terrorists (CTs) at vicinity Brgy Cristina, an interior barangay of Jiabong, Samar resulting to the killing of four Communist Terrorists (CTs) and the unfortunate demise of one (1) child. Their cadavers were brought to Jiabong town for proper disposition.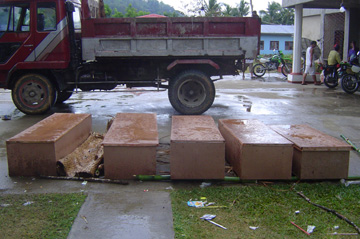 Cadavers of the NPA killed during the encounter
Based on the reports forwarded to the 8th Infantry Division, the troops recovered one (1) M16 and one (1) M14 rifle. Also recovered from the scene of the encounter were subversive documents of high intelligence value and personal belongings. No government troops were injured while undetermined on the enemy side as seen from the bloodstains in their route of withdrawal. It was learned that one of the casualties is a barangay councilor of the said barangay while the barangay chairman was also monitored as one of those wounded during the said encounter. The still unidentified child was with the CTs when the encounter happened.
The encounter is a result of the reports made by the local residents thereat complaining about the extortion and harassment acts of the CTs in their area. This is also in confirmation of the information volunteered by the NPA surrenderees who are cooperating well with government authorities as they are already fed up of the broken promises of good life as promised by CPP/NPA leaders, as well as the reports that elected government officials are supporting the CTs' cause.
This information is a clear manifestation that the Philippine Army has the support of the people contrary to the claims of the CTs. With this development, the troops are now closing in on the different havens of the CTs so they could not continue with their extortion and terroristic acts.
Elements of the 34th Infantry Battalion are still conducting pursuit operations against the fleeing rebels as there are reports that the CTs suffered many casualties during the said encounter.
In a belated report, elements of 14th Infantry Battalion under LTC Claudio Neri, while on security operations last 13 June 2005 at around 10:00 A.M., encountered more or less twenty (20) Communist Terrorists (CTs) at vicinity in between Brgys Lim-ao and Yabon of Hinabangan, Samar where the troops recovered one (1) M14 rifle and one magazine with twenty rounds of ammunition. Again, no government troops were injured while undetermined on the enemy side.
Maj Gen Jovito S Palparan Jr, the Commanding General of the 8th Infantry Division is expecting more engagements with the CTs as he directed all subordinate units to conduct continuous operations against the CPP/NPA in order to protect the civilian populace from their terroristic acts.
On the other hand, General Palparan is calling all CPP/NPA members to bring down their firearms, return to the folds of the law and live a peaceful life